Linux Tools - Changelog Plug-in
Overview
The Linux Tools ChangeLog plugins add automatic ChangeLog entry creation support to Eclipse for projects checked out from a Team repository (CVS and SVN). Method and function indication is provided for C, C++, and Java language files. The RPM .spec %changelog format is also supported. A ChangeLog entry can be created for a single file or an entire project. In addition, a ChangeLog editor is provided which makes it easy to format the file consistently and to put the latest entry into the clipboard buffer for usage in a repository commit operation.
Current Status
In conjunction with Eclipse SDK and CDT, the plugin supports:
C, C++, and Java language support for modified functions/methods
Preference page to set name, e-mail address, and desired entry style
Automatic new and removed file entries
Support in Team synchronize view as well as C View and Project Views, C Editor, and Java Editor
Single ChangeLog entry for current file
Full entry for entire project
Tested with CVS and SVN repositories
Colorized ChangeLog editor with support for diffing to clipboard
Short-cut key sequences CTL+ALT+P for project entry and CTL+ALT+C for single entry
Future Plans
git and mercurial support
Screenshots
Changelog sample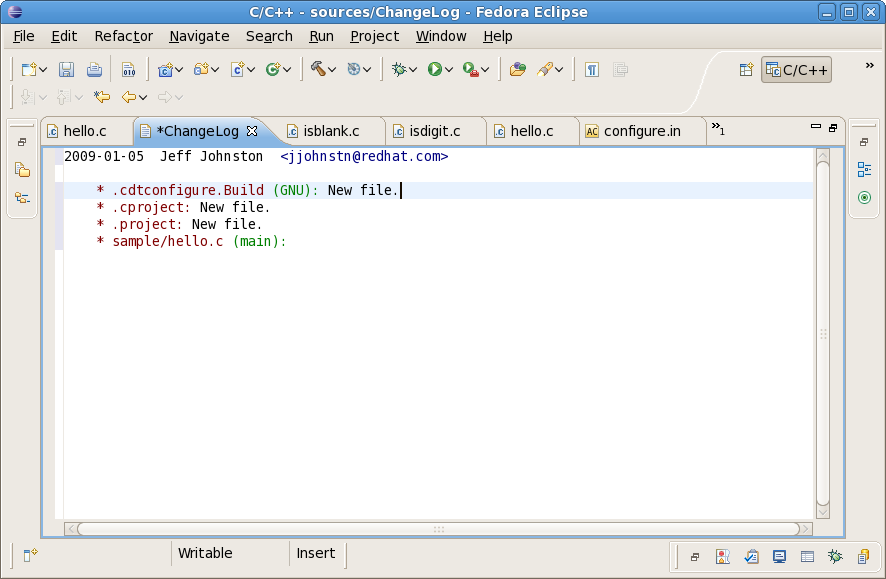 Demos
Try it out
Please use our update site as described
here
.
You can also check the project plugins out of Git directly from eclipse.org at git://git.eclipse.org/gitroot/linuxtools/org.eclipse.linuxtools.git. You will need to check out the following from the changelog subdirectory:
     org.eclipse.linuxtools.changelog.core
     org.eclipes.linuxtools.changelog-feature
     org.eclipse.linuxtools.changelog.cparser
     org.eclipse.linuxtools.changelog.doc
     org.eclipse.linuxtools.changelog.javaparser

From there, run the plugins as an Eclipse Application.